Demystifying the Fear of Cloud Computing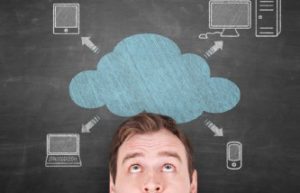 Do you understand cloud computing? If you're like most business owners, you probably have some idea of the basics. Yet, many small and midsized businesses often resist moving from traditional servers to the cloud because they don't fully understand the technology. Often, they fear the risks and costs of investing in new technology because they lack the knowledge and support.
If you are concerned with cloud, you're not alone. According to "A Walk in the Clouds" Analytic Report of Cloud Computing by Informationweek, 81% of business owners say security is one of their top concerns. The truth is the cloud is one of the most secure platforms to protect your data.
The purpose of this article is to help end the fear and cloud confusion. From the CEO to the individual who has access to an organization's information systems needs a thorough understanding of the cloud. In this guide, we explain the differences between consumer vs. business cloud in layman's terms and demystify the cloud for business.
Ready to start your learning journey? Let's get started.
What is the Cloud?
The cloud isn't new. You've been using it for years. If you are Googling something, using a smartphone, or accessing your Facebook account, or any other mobile application, you are using the cloud.
The "cloud" is just a sexy word for the Internet.
The problem is this sometimes nebulous or subjective term doesn't make it very clear to what "the cloud" actually means to consumers vs. businesses.
When tech companies say your data is in the cloud, or that you can work in the cloud, the cloud refers to software and services that run on the Internet versus locally on the hard drive that's typically located under your desk or in the office.
Most cloud services are accessed through a Web browser like Internet Explorer, Google Chrome, or other dedicated mobile app. Some examples of cloud services include Microsoft OneDrive, Google Drive, Apple iCloud, Netflix, Gmail, and Dropbox. There are also many business applications for cloud computing.
The advantage of the cloud is that you can access your information on any device with a connection to the Internet connection. It's what allows you to make edits to a file in Google Docs on your home computer, and then pick up where you left off when you get to the office.
Another benefit of the cloud is that you don't necessarily need an expensive, high-end machine to get your work done because the remote servers handle much of the computing and storage. For this reason, many companies are turning to low-cost computer options over more expensive ones to cut on costs.
To get better familiarized with your options, let's address this topic in more detail.
What is cloud computing?
In the simplest terms, cloud computing means storing and accessing data and programs over the Internet instead of your computer's hard drive. What cloud computing is not about is storing data on, or running programs from your hard drive. That's called local storage and computing. There's a major difference. Storing data on a home or small office network does not count as utilizing the cloud.
For it to be "cloud computing", you need to access your data and your programs over the Internet, or at the very least, have that data synced with other information over the Web.
If you are an IT professional in a large business or an administrator of a small office, you may already understand all there is to know about what's on the other side of the online connection. As a typical end-user, however, you may not fully understand the data processing happening on the other end. Yet, the result is the same. With an online connection, cloud computing can be done anywhere, anytime.
 Consumer vs. Business Cloud
Let's be clear here. Up until this point, we've been talking about cloud computing as it impacts individual consumers—those of us who sit at home or in small offices and use the Internet on a regular basis.
The cloud enables your IT infrastructure to evolve as quickly as your business does. But there is an entirely different experience when using cloud hosted desktops. The cloud has 3 deployment models: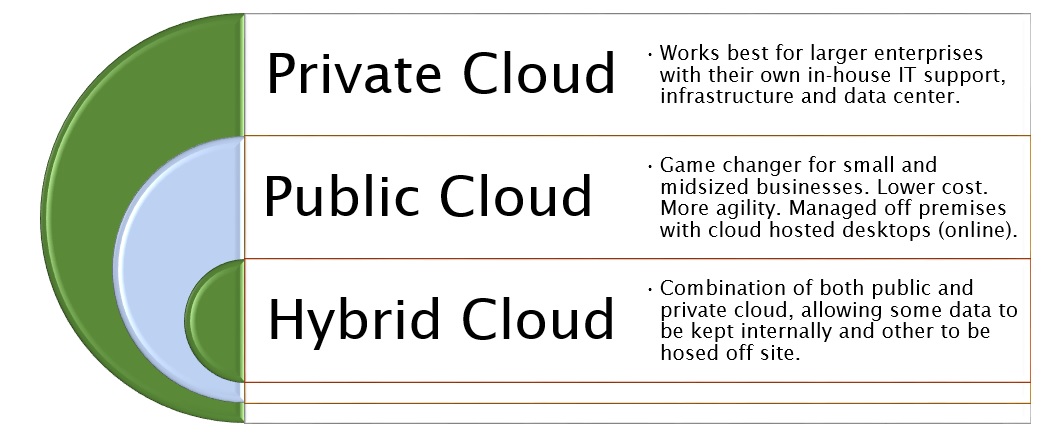 Since most small and midsized businesses don't typically have the resources and infrastructure to build private clouds, most rely on public clouds. Public cloud deployments are completely virtual, which means less hands-on management is required since the infrastructure, such as the hardware (servers, storage devices, networking equipment, and firewalls) is all off-premises.
In an economy where many businesses find themselves having to stretch their technology investment as far as it can go, the benefit of not having to pay for hardware, employees to maintain and manage that hardware, software licensing, deployment, and updating is critical.
Businesses typically focus on implementing one of these 3 categories of cloud computing services. They are:
Platform-as-a-Service (PaaS) – This is where a business can create its own custom applications for use by everyone in the company like Amazon Web Services.
Infrastructure-as-a-Service (IaaS) – This is where big players like Amazon, Microsoft, Google, and Rackspace provide a backbone that can be "rented out" by other companies. For example, Netflix provides services to you because it's a customer of the cloud services at Amazon.
As you can see, the lines can sometimes become blurry between local computing and cloud computing. That's because the cloud is part of almost everything on our computers. For more information, check out the The Best Cloud Storage and File-Syncing Services.
Common Cloud Scenarios
A common cloud example you may be using for your small business is Microsoft Office 365, which is a local piece of software that utilizes a form of cloud computing like Microsoft OneDrive for storage. It includes access to Office applications, plus other apps (Word, Excel, PowerPoint, and OneNote) that can be accessed through your Web browser without installing anything. This makes them a version of cloud computing.
Here are some other common cloud examples you're probably using:
Google Drive is a cloud computing service with file storage and synchronization service that allows users to store files in the cloud, synchronize files across devices, and share files. It can work with the cloud apps: Google Docs, Google Sheets, and Google Slides. Drive is also available on more than just desktop computers. You can use it on tablets or smartphones. Most of Google's services could be considered cloud computing: Gmail, Google Calendar, Google Maps, etc.
Apple iCloud is simply a cloud service used for online storage and backup, keeping all your devices in sync such as your iPhone, iPad, iPod touch, and/or computer. The information on each device is automatically updated. All the data is available to you on your devices.
Amazon Cloud Drive storage is essentially storage for anything digital you'd buy from Amazon, baked into all its products and services.
Hybrid services like Box, Dropbox and SugarSync all say they work in the cloud because they store a synced version of your files online, but they also sync those files with local storage.
In these examples, even though you access the file locally, synchronization is a cornerstone to the cloud computing experience. For more information, check out our next article on: Why You Should Move From On-Premise to Cloud Computing?
Get a custom plan
Get the Complete IBIS Cloud Hosting Plan. Learn More About Our Platform!