7 Reasons Why You Should Move from On-Premise to Cloud Computing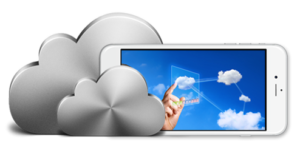 Let's face it. Competition is fierce. Historically, the cloud computing technology used by larger companies was not available to smaller businesses. In the past, only large enterprises had the money to invest in IT infrastructure. But the cloud truly levels the playing field, giving companies of any size the ability to store information at a remote datacenter rather than on-premise.
Ready to learn about the Top 7 Reasons why now is the time to move from on-premise to cloud computing? Cloud enables you to do large-scale business at a lower cost, while improving service quality. In fact, cloud hosted desktops help make both your business and IT leaner, faster, safer, and more productive.
Here we discuss the benefits of switching from on-premise to the cloud to help you get your business ahead of the curve – not fall behind it. But before we jump into the top reasons, let's take a step back to explain the core concepts in more detail.
What is Cloud Computing?
Cloud computing is basically storing and accessing your data and applications over the Internet instead of your computer's hard drive. With an online connection, cloud computing can be done anytime, anywhere.
What is a Cloud Hosted Virtual Desktop?
A cloud hosted virtual desktop is moving your current environment (that conveniently sits on or underneath your desk) into a virtual machine safely stored in the cloud. Cloud hosted virtual desktops are a great way business owners can save money, time and hassle on a daily basis.
How does it work?
Each desktop in the cloud sits on a server dedicated to your company in secure data centers. In certain cases, you also get a fully-managed, secure and well-maintained working environment with access to IT Support for all of your company's users — no matter where they are. The experience feels as if you were on your local machine, but it's even faster, more secure, and more reliable than your local PCs.

7 Benefits of Switching from On-Premise to the Cloud
Cost Savings: A Cloud Hosted Desktop provides you with scalable computing power, while minimizing IT requirements and physical data storage, providing you with significant savings.
Security: Perhaps the weakest link in the initial days of cloud adoption was security concerns. But today, more people have begun to realize these concerns are misguided. Cloud IT service providers actually provide higher levels of security and data integrity. Why? Because they make huge investments in the resources and technology, along with a skilled team of IT experts and engineers smaller businesses just can't afford to do on their own.
Connectivity & Accessibility: Keep users connected no matter where they work with anytime, anywhere access. Users may access files anytime, anywhere, using any device. That means no more risk of files being stored on any computer.
Reduced Risk of Data Loss: Even more security for users by backing-up data offsite – decreasing the potential for hackers, viruses, ransomware, and other cybersecurity problems. Let's repeat that again, more security. (Read: 3 Tips to Prevent Data Loss).
Faster Deployment: Cloud-based services can be deployed within just an hour or a few days rather than the weeks, months or years it can take to strategically plan, buy, build and implement an internal IT infrastructure with internal personnel. 
Increased Collaboration: Cloud computing enables employees situated in various locations to collaborate easily. By providing simultaneous syncing, working and sharing documents and records in real time, cloud computing helps increase the collaboration and efficiency of employees.
Improved Efficiency: After migrating to the cloud, you no longer need to worry about power requirements, space considerations, expensive computer hardware, or software updates. You get to keep your entire company focused on generating revenue and relationships, not on IT.
Getting Started with the Cloud
Adopting the cloud doesn't have to be complicated. The benefits of reduced costs and complexity, flexible scalability, and lower per-unit cost are simply too alluring to ignore. Concerns about security, costs and support are valid but today you may actually be exposing your business to more breach vulnerabilities by not being in the cloud.
The belief that data must be on-site to truly be secure is as misguided as the belief that money is safer tucked under your mattress than in a bank. A reliable cloud IT service provider is capable of investing far more into their security than you trying to run it on your own technology. Here are 4 key values to expect when utilizing the right Cloud IT Services Provider to move you to the cloud: 
Security: FINTECH-grade security and compliance for your business
Productivity: Higher levels of efficiency with managed cloud solutions
Accessibility: Access Microsoft Windows desktop anytime, anywhere, on any device
Experience: Highly-skilled Cloud IT experts and support who become an extension of your team
To get started, here are some final points to consider:
Conduct a cost-benefit study.
Compare private cloud IT service providers to discover what kind of computer hardware management technology and VM technology they offer and what their team's strengths are.
Virtualize your existing environment as much as possible.
Finally, don't do it alone. Whether your organization is new to the cloud, or you need to expand or consolidate existing cloud services, turn to a trusted and proven Cloud IT Services provider to help you navigate through the cloud confusion.  
Get a custom plan
Get the Complete IBIS Cloud Hosting Plan. Learn More About Our Platform!